Learn the art of making family films

He
re at the FilmingLife® Academy, we teach photographers how to create meaningful, story driven films for families no matter what skill level you're at. Our flagship course, FilmingLife® 101: Foundations of Filmmaking for Photographers is open for enrolment year round and you'll get instant access when you become a member of the FilmingLife® Academy. In addition to our courses, you also get access to the FilmingLife® Network - the largest community of family filmmakers in the world. Our community, is the most supportive, engaged community of filmmakers and photographers that you'll find anywhere. And if that wasn't enough, you also get access to monthly critique calls and regular support from our Founder Courtney Holmes! If you have questions check out our FAQ's page and if you don't see the answer please send us a message below, we are here to help!
Flexible membership
All of our courses are included in your monthly membership fee, with no extra or additional payments for new courses when they come out. There's no lock in contract, and you can cancel anytime! If you know you'll be unable to study for a few months, you can cancel and rejoin when you're ready.
learn at your own pace
Our courses are all online with no time limit for completion so you can work through them as fast or as slowly as you like. We generally recommend about 6-12 months to work through all of the content depending on how much time you have to dedicate to it. We have members that have been with us for 3+ years!
get support from others
Becoming a member of FilmingLife® means you get access to the FilmingLife® Network as well which is our exclusive community hosted separately on MightyNetworks. Ours is the largest community of it's kind and it's the place where we meet to share work, discuss projects, ask questions, and schedule events.
make films in the ArtHouse
ArtHouse is a series of guided Film Projects every 8 weeks with live instruction and zoom calls with our educators aimed at strengthening and expanding your skills as filmmakers. It's a place for our community to gather together, support, and share ideas. At the end of the 8 weeks for each Film Project, the FilmingLife® staff will choose 3-5 "Staff Picks" to be showcased on the FilmingLife® Website / Blog / Social Media.
FilmingLife® Learning Pathway
Our courses are divided up into levels designed to suit a variety of skill and experience levels. In the diagram below you'll see our recommend learning pathway for course completion. Keep in mind, this is purely a suggestion only and you are free to complete the courses in the order that you like. We offer additional live mini courses with new themes every other month through the ArtHouse to further teach and challenge our members to learn new concepts with short achievable film projects. Members can join in with an ArtHouse Project at any time.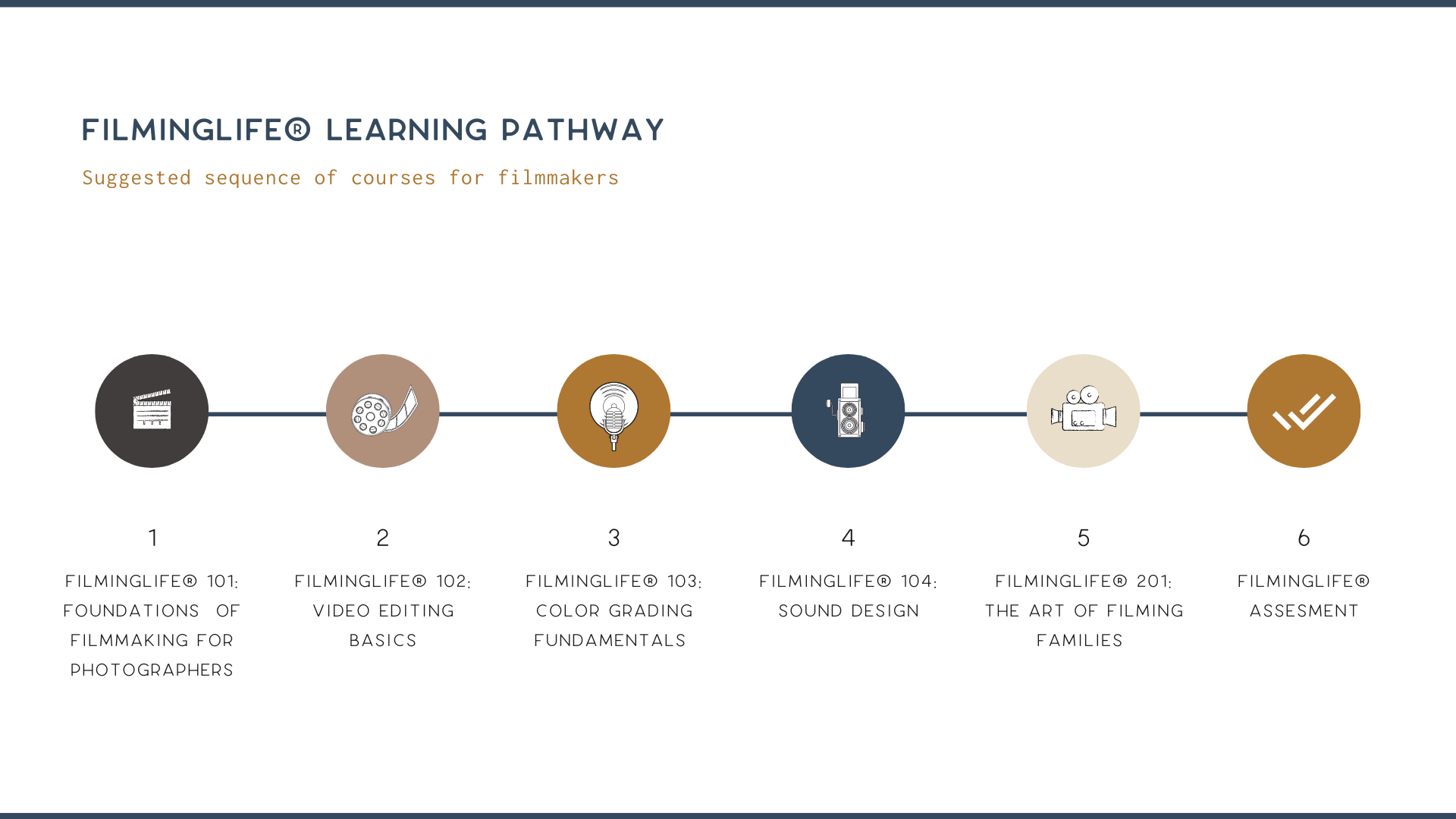 Our courses are full length, in depth courses, intended to be taken in sequential order. Each course is designed to lay the foundations and building blocks for creating meaningful, story-driven and artistic films. To supplement and further strengthen your skill as a filmmaker, a workbook is included in this section that you can print out and refer to which also includes targeted exercises that are excellent for filmmakers at any level to practice.
\Learnworlds\Codeneurons\Pages\ZoneRenderers\CourseCards

Learn new filmmaking techniques | strengthen your skills | build your portfolio
Every two months we encourage our members with a live mini course to complete a film project around a specific theme. Some months it's technical, other months it's creative and / or emotional. We provide a short tutorial + inspiration to go with each theme, and at the end we choose our favourite submissions and share them on our blog and in here. Scroll through for past themes, tutorials, and member features.
\Learnworlds\Codeneurons\Pages\ZoneRenderers\CourseCards